Join us for our upcoming webinars!
Members, sign in to register for upcoming webinars or to view past webinars
Not a member? Join now to register for this webinar and to view our library of past webinars along with many other HSA Member-only benefits and discounts. Or see below to register and pay to attend this webinar.
---
February
Putting Herbs to Work in Your Garden with Caren White
Thursday, February 21, 2019 - 1pm EST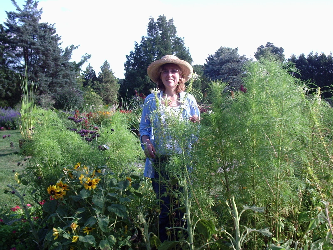 Herbs are wonderful garden helpers.  Learn how to use herbs to attract beneficial insects, repel pests, improve your soil and as companion plants in your garden.
Caren White 
Caren White is a Master Gardener and member of the Herb Society of America.  She manages an international culinary herb garden in Lambertville for the Herb Society.  She is also a longtime volunteer at Rutgers Gardens where she is the Garden Steward for the herb garden and grows the herbs sold at the popular Spring Flower Fair, an annual fundraiser for Rutgers Gardens.  Caren teaches herb classes at Home Gardeners School (sponsored by Rutgers University), the annual NOFA-NJ Winter Conference, the EARTH Center (Rutgers Cooperative Extension of Middlesex County), and Rutgers Gardens.
Non-member class fee is only $5.00! Click "Register Now" below.
---
Upcoming Webinars
Making Herbal Medicine with Susanna Reppert-Brill, of The Rosemary House, on Wednesday, March 20, 2019 - 1pm EST
Beyond Basil, Rosemary and Thyme with Theresa Mieseler, of Shady Acres Herb Farm on Wednesday, April 24, 2019, - 1pm EST
How to Grow and Use Luffa (Loofah) with Janice Cox, author of Natural Beauty at home, on Wednesday, May 15, 2019 - 1pm EST
What are HSA Webinars?
Join Now and Avoid the Webinar Fee!
Webinars are a dynamic educational opportunity covering a variety of herb-related topics. Members enjoy the ability to participate in both scheduled webinars as well as view archived presentations. Topics vary widely, including using herbs in cooking, crafting or healing; distilling essential oils; growing methods; and exploring herbs with modern day and historical significance. A new webinar is scheduled each month!