We generate a wide variety of useful and informative herb-focused publications you'll find indispensible for botanic information, guidance and insights – not to mention the latest in HSA news.
HSA members also enjoy access to the HSA Quarterly Newsletter, Unit Connections, HerbalBytes, and GreenBridges newsletters.    MEMBERS-ONLY PUBLICATIONS HSA NEWSLETTERS
---
The Herb Society of America 1933-1993: A History
---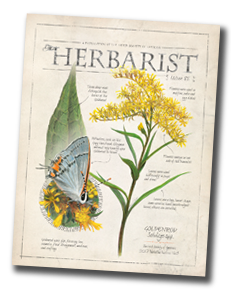 The Herbarist 
Our premier publication, The Herbarist, an annual journal packed with informative articles, beautiful images, and fascinating content from all around the herb world.
Written and published by The Herb Society of America since 1935 The Herbarist continues to inform, inspire, and expand our members' knowledge of the latest in herbal information.
Purchase the 2016 Herbarist
• Authors are invited to submit articles to The Herbarist
• Advertise in The Herbarist to reach a large audience of like-minded enthusiasts
---
HSA Quick Fact Sheets
Our Quick Fact Sheets are 1–2 page brief but informative list of the most important facts of various herbs.
---
HSA Essential Herb Guides
Our Essential Guides are 30–50 page detailed guides on herbs, containing fascinating in-depth facts, historical, and botanic data. 
SHOW ME THE ESSENTIAL HERB GUIDES
---
Herbarist Submissions or Advertising
SUBMISSIONS: Only original material that has not been previously published will be accepted. Topics can range from herb gardening with children, to herbal cuisine, to outstanding herb gardens, to scientific articles on individual plants. Normal article length is 1,500-3000 words.      SUBMIT YOUR WORK TO THE HERBARIST
 
ADVERTISE IN THE HERBARIST: Would you like to tell nearly 2,500 herb enthusiasts about your product, service or organization? The best way is to take out an ad in The Herbarist, the annual journal of The Herb Society of America. Ads can be purchased in various sizes, from 1/8 of a page all the way up to a full-color 8 1/2 x 11" ad. Ad sizes to come.
Since The Society does not sell its mailing list, or allow non-member advertisers in the quarterly newsletter, this is the only way to directly reach The Herb Society of America members. For more information and prices, please contact us at herbs@herbsociety.org.